The Role of Siding in Home Insulation: Improving Energy Efficiency and Comfort
Denver, United States - September 22, 2023 / Colorado Window Source /
Siding is a type of exterior cladding material that covers the walls of a building. It serves functional and aesthetic purposes, protecting the structure from the elements while contributing to its overall appearance. Colorado Window Source, a reputable and locally trusted siding contractor in Denver, is shedding light on the pivotal role of siding in elevating home insulation, enhancing energy efficiency, and promoting unmatched comfort. With a keen focus on delivering quality solutions that stand up to the unique climate of Denver, Colorado, Window Source is committed to transforming houses into havens through the power of well-chosen siding materials and expert installation techniques.
Understanding the Basics of Home Insulation
As the seasons shift and temperatures vary, the importance of a well-insulated home becomes apparent. Siding acts as a protective layer, guarding against the elements and playing a crucial part in maintaining indoor temperatures. Colorado Window Source educates homeowners about the intricate relationship between siding and insulation, emphasizing the need for a comprehensive approach to achieve optimal results.
Choosing the Right Siding Materials
Colorado Window Source offers a range of siding materials, including from leading manufacturers like James Hardie Siding and LP Siding, each selected to cater to Denver's unique climate demands. The company offers installation and repair services for siding like fiber cement, vinyl, wood, and aluminum. These materials are more than just an aesthetic choice – they are designed to contribute significantly to a home's energy efficiency. The experts at Colorado Window Source guide homeowners through the selection process, ensuring that the chosen siding aligns with aesthetic preferences and insulation goals.
Proper Siding Installation Techniques
Siding materials are only part of the equation; proper installation is equally vital to ensure insulation effectiveness. Colorado Window Source emphasizes the importance of professional siding installation, stressing the need for precision and attention to detail. The team's expertise guarantees that the siding is seamlessly installed, forming a continuous thermal barrier that minimizes heat transfer and energy loss.
Reducing Heat Loss in Winter
As winter's chill settles in, homeowners turn to their heating systems for comfort. But without adequate insulation, a significant portion of that warmth can escape through poorly insulated walls. Colorado Window Source highlights how well-insulated siding mitigates heat loss, creating an energy-efficient envelope that keeps indoor spaces cozy and reduces heating expenses.
Keeping Your Home Cool in Summer
Maintaining a comfortable indoor temperature is equally important in Denver's scorching summers. Colorado Window Source, the Expert siding contractor in Denver, CO, discusses how the right siding material in light colors shields against the sun's intense rays, preventing excessive heat from infiltrating the home. This results in reduced reliance on air conditioning systems and lower cooling costs.
Saving Money and Improving Comfort
The symbiotic relationship between siding and insulation translates into financial savings and unparalleled comfort. By investing in high-quality, energy-efficient siding, homeowners experience reduced energy consumption, leading to lower utility bills. Furthermore, the consistent indoor temperature achieved through well-insulated siding enhances overall comfort and well-being.
Reaping Long-Term Benefits of Siding
Colorado Window Source underscores the lasting advantages of selecting the right siding. Investing in well-insulated siding pays off through immediate savings and maintains its value over the years. With offerings like James Hardie Siding and LP Siding, Colorado Window Source ensures that homes are equipped with materials that withstand the test of time and climate.
Siding Company in Denver, CO
As the temperatures fluctuate and energy efficiency gains prominence, Colorado Window Source stands as a trusted siding company in Denver, CO. With a commitment to excellence and a range of quality siding options, including James Hardie Siding and LP Siding, Colorado Window Source invites homeowners to explore solutions that elevate their homes' energy efficiency, comfort, and overall quality of life. Homeowners who need a siding contractor near South Denver for siding installation or repair can contact Colorado Window Source at (720) 727-6031 or visit their website.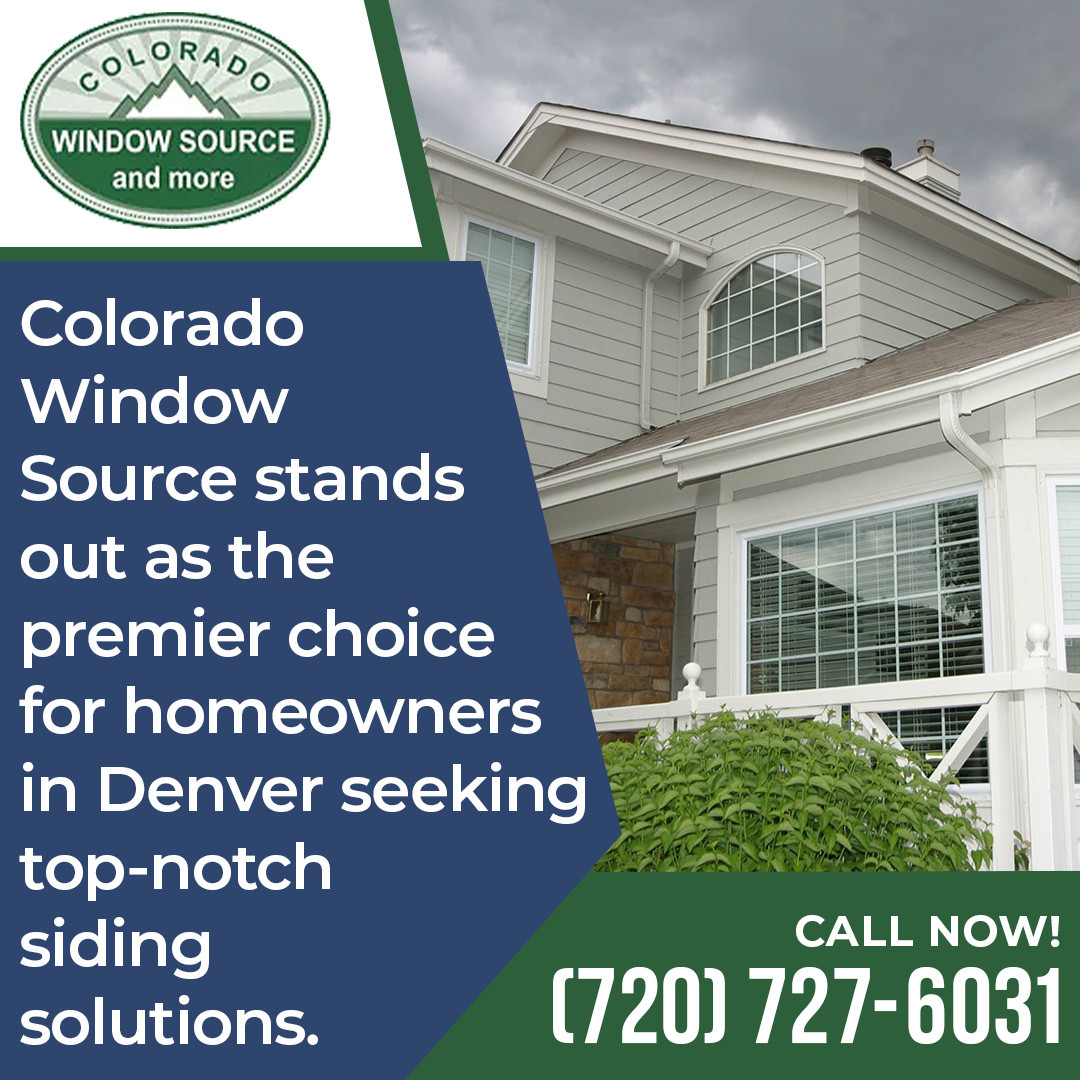 Contact Information:
Colorado Window Source
1309B W Alameda Ave
Denver, CO 80223-2040
United States
Leo Durocher
(720) 727-6031
https://www.coloradowindowsource.com/

Original Source: https://www.coloradowindowsource.com/siding/the-role-of-siding-in-home-insulation-improving-energy-efficiency-and-comfort/